From Costar with License under Intero Real Estate Services.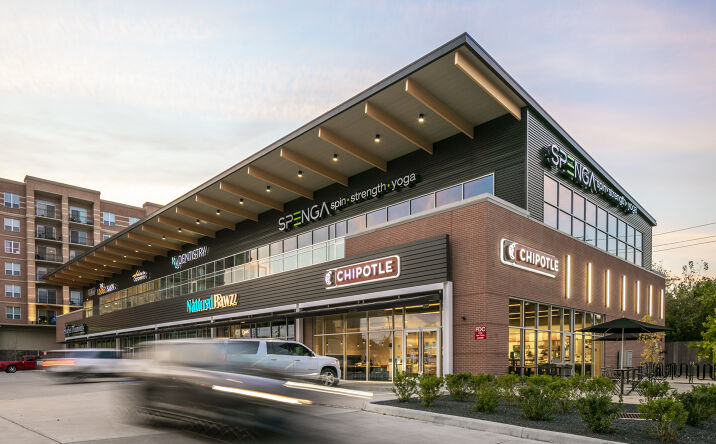 Transaction volumes rebounded sharply in 2021 and were a record for Houston — up more nearly 60% over the same period in 2020 and more than 100% in 2019. This was primarily led by a return to large portfolio deals.
Houston's largest submarket, East-Southeast Far, near the Port of Houston, accounted for nearly a quarter of trades in 2021 — double any other submarket. In East- Southeast Far, over half of what was sold was 4 Star, much of it either newly built and stabilized or high-quality and a few years older with presumably some lease roll coming soon. In the latter scenario, there might be an opportunity for new investors to increase rents with minimal tenant improvements.
Amazon deals accounted for nearly $240 million of sales volume in 2021 — about 7% of the total. These properties are located all over Houston but particularly in the northwest, which is the fastest-growing region in the Houston metro in terms of population. Since 2010, more than 80% of Houston's population growth has occurred in Unincorporated Harris County, located in the northwest.
As far as the Amazon transactions, South Korea-based investment manager Mirae Asset Global Investments acquired an 855,000-SF Amazon Fulfillment Center at Pinto Business Park in 21Q2 from San Antonio-based USAA for $139 million, or $163/SF. In 21Q1, Chicago- based Walton Street Capital acquired an 805,000-SF Amazon build-to-suit from Indianapolis-based Duke Realty Corporation at Clay 99 for an undisclosed price. CoStar estimates the buyer paid $52.5 million, or $65/SF, at a 6% cap rate. In 21Q2, Denver-based EverWest Real Estate Investors acquired a 300,000-SF Amazon logistics facility in Sugar Land from Plymouth Meeting, Pennsylvania-based CenterSquare Investment Management for $28 million, or $93/SF, at a 5.1% cap rate. Also, in 21Q2, Denver-based Black Creek Group acquired a 158,000-SF facility leased to Amazon at the Benchmark Northwest Business Center from Dallas- based Stream Realty Partners for an undisclosed price. CoStar estimates the buyer paid $18.5 million, or $117/SF, at a 5.9% cap rate.
Among the largest portfolio deals in 2021, in 21Q3, Singapore-based Mapletree acquired more than 3 million SF across Houston for $424 million, or $140/SF, from Blackstone. This was part of a national portfolio sale of 128 industrial and flex properties totaling 22 million SF for $2.475 billion spanning 11 states, so the Houston assets accounted for 13% of the square footage and 17% of the dollar volume of the trade. The sale allowed the buyer to attain sufficient scale and investor interest to create a fourth U.S.-focused private fund with a fully seeded portfolio.
In 21Q4, Blackstone also acquired 1.4 million SF at the Cedar Port Industrial Park and Apex Distribution Center for $174 million, or $123/SF from Toronto-based WPT Industrial REIT. The sale was composed of all of WPT's properties across the U.S., including 112 properties totaling approximately 38 million SF across 19 U.S. states for $3.2 billion in aggregate, including the assumption of debt.
Also in 21Q4, a joint venture of Blackstone, the Carlyle Group, and Hellman & Freidman Capital Partners was under contract to acquire 49 Medline build-to-suit properties totaling over 15 million SF, including a 1.3 million-SF facility in Katy at the Pederson Distribution Park, which delivered in 20Q4.
In 21Q2, Miami-based Starwood Real Estate Income Trust acquired five properties and a 3.5-acre land parcel totaling nearly 2.2 million SF of building area and over 115 acres of land. The properties, which were acquired from Houston-based Hines, were 100% leased at the time of sale to tenants that include CRC Global Solutions, SetPoint Integrated Solutions, Automated Valve & Control, Distribution NOW, Ironwear, Packwell, and the Avient Corporation. Independence Logistics Park is located 8 miles west of the Port of Houston and in proximity to the many petrochemical businesses in Houston. The buyer paid $195 million ($89/SF) at a 6.1% cap rate for the properties.
New York-based Lexington Realty Trust also acquired a portfolio of three buildings at two separate industrial parks totaling nearly 740,000 SF — also located near the Port of Houston — from locally based Triten Real Estate Partners in 21Q2. These, too, were 100% leased at the time of sale, to tenants such as Costway, A&R Logistics, and Frederick Trucking. While no price was disclosed, CoStar estimates the buyer paid $71 million ($96/SF) at a 6.5% cap rate.
Separately, in 21Q2, Triten sold two portfolios of 2 and 3 Star urban infill properties that totaled nearly 750,000 SF to Woburn, Massachusetts-based High Street Logistics Properties. All these properties were located inside Beltway 8 with many located inside the 610 Loop. In February 2021, Triten announced a $150 million fund to acquire industrial service facilities nationwide, which it sees as mission-critical to supporting the global supply.